Well, welcome to January. It's been a hot minute (so to speak) since I've had a chance to connect with many of you—and I hope that you and your business have been thriving this year. 
It's been a strange mixed bag for a lot of us. Honestly, it makes me feel like doing this: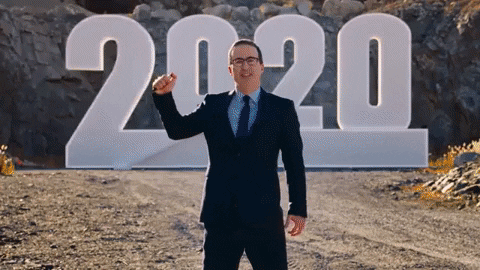 News from the Firm
Personal feeling aside, our firm has made a point of ending the year on a positive note. We're all working from home—and because it got weird with me wearing a blue suit around the house, I switched to a blue jumpsuit for the duration of the pandemic. 
We've been busy though! Here's some of what was new for us this year.
In the Media
I was featured in Forbes discussing how the SECURE Act affects individuals who hold IRAs, and Money Magazine Online invited me to host a video about the importance of will and estate planning during the pandemic.
CNBC also asked me to comment on the importance of estate planning after the death of Chadwick Boseman, who was one of my personal role models. 
As always, it's gratifying to be able to educate business owners about the steps they should take now to protect their businesses and families in the future. 
New Year, New Everything
We've made a lot of internal news this year, too! We launched our new website—which you are currently on (hope you like it!). 
We also started a newsletter, Blue Suit News. Subscribe for legal tips, advice for business owners, and news about asteroids, shrimp, superheroes, and the San Antonio/Austin areas.
You can also find SMC Live, our new video series, both in our newsletter and on Facebook. We sit down with local nonprofits and charitable innovators and discuss how they got started—and how they support their local community. The goal of SMC Live is to showcase and explore the importance of giving back
We also hired a new team member, April Melchor! April Melchor was born and raised in Texas, and graduated from the University of Texas—Rio Grande Valley with a BS in Psychology. April enjoys cookouts on football Sundays, learning new crafts, and spending time with her family. She joins us as a legal assistant. 
Emerging Practice Areas
Bankruptcy is Okay
We kicked off our bankruptcy practice this year, working to destigmatize what can be a smart strategy to support clients during a crisis. 
Bankruptcy has never been a sign of failure, and especially not now. If some brave folks weren't willing to try out new ideas, we would have none of the innovation we take for granted—from the internet to vaccines. In fact, it's actually a smart business and personal tactic that can leave you in a position to take on the next venture.
Supported Growing Businesses
2020 has been an unusual year for businesses to grow, but our altered reality has created some surprising niches and opportunities for development. We've worked to support those businesses as well—in areas such as planning, buy-sell agreements, contract review and negotiation, mediation, real estate, and litigation.
Businesses do so much to shape and nurture our community—and we want to be with them every step of the way.
Asset Protection in an Election Year
2020 also saw shifts in Washington. The incoming Biden administration hopes to adjust tax rates, including lowering the threshold for tax-free estates and raising income tax on high earners.
We work with individuals to protect their assets at any time—through estate, trust, and gift planning—but this fall has marked even more activity in an uncertain time.
But Enough About Us!
Seriously, though—I want to talk to you guys.
What has been going on with you and your family? We want to know how things have been for you during this difficult year. Our new legal assistant, April, will be in touch to set up a call.
We've been going through our client's files and doing internal audits—so if you've mentioned wanting to do an estate plan (and haven't yet), you might expect a friendly (virtual) knock in the next few months. 
Wishing you the Best in 2021!
Serving Our Community
We can all serve according to our strengths. Throughout this year, our team has channeled inspiration into working with our community.
In a complicated time, we're glad for the opportunity to support our clients—drawing on our values of empathy, compassion, and by truly listening to your concerns.
If you have questions about bankruptcy, business, or estate planning, contact us to schedule a consultation. Our experienced Texas attorneys can guide you through the process.